National Quality Forum Releases Consensus Report on Home and Community-Based Services Quality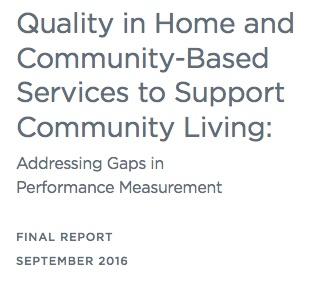 Eleven conceptual domains are important in measuring home and community-based services (HCBS) quality, according to a report released by the National Quality Forum on September 27, 2016.  The report is the work of a 22-member committee co-chaired by two Community Living Policy Center researchers and representing a wide variety of perspectives, from disability and senior advocates to state officials to HCBS providers.  The release of this report represents the culmination of a two-year project, which was funded by the U.S. Department of Health and Human Services (HHS).  Three interim reports, describing the committee's work-in-progress, were previously released to the public.
Quality domains range from consumer-focused topics such as "Community Inclusion" and "Choice and Control" to program- and system-focused areas such as "System Performance and Accountability" and "Consumer Leadership in System Development."  The domains are further divided into some 40 subdomains. The report also contains a definition of HCBS, a list of characteristics of high-quality HCBS, recommendations to HHS and others for quality development, and examples of existing quality measures that the committee felt were promising.
CLPC director Steve Kaye and knowledge translation partner Joe Caldwell, of the National Council on Aging, led the committee, and knowledge translation partner Mike Oxford, of the Topeka Independent Living Resource Center, also served on the committee.
Download the report:

HCBS_Final_Report.pdf
Link for more information:  The National Quality Forum's Project on Home and Community-Based Services Quality
Last modified Oct 3, 2016