New Report Highlights the Importance of Money Follows the Person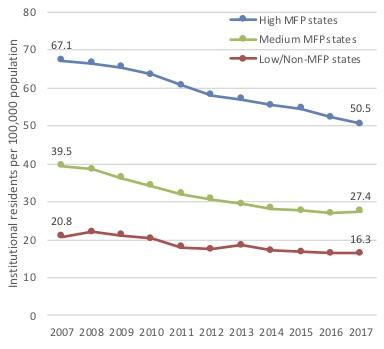 A new Community Living Policy Center report offers evidence that, to a greater extent than other states, states with robust Money Follows the Person (MFP) programs reduced their reliance on institutional long-term services and supports and shifted the balance of the Medicaid LTSS system toward home and community-based services. A Federal program that funds states to transition institutionalized LTSS recipients back to their communities, MFP was created in the Deficit Reduction Act of 2006 and renewed and expanded in the Patient Protection and Affordable Care Act of 2010. In all, more than 90,000 people have been transitioned nationally. Congress has since allowed the program to lapse, but there remains hope for reauthorization. The report analyzes data on institutional residents and on Medicaid LTSS spending, showing that states with robust MFP programs fared better than other states on several measures.
Download the report here.
Last modified Jul 2, 2019