Watch: Congressional Briefing on the Potential Impact of the American Health Care Act on Home and Community-Based Services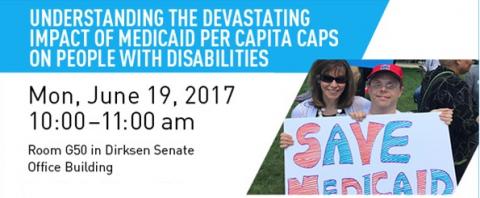 On June 19, CLPC director Steve Kaye joined prominent disability advocates and a state Medicaid official to give a briefing on the impact that the American Health Care Act (AHCA), if enacted, would have on long-term services and supports and other services received by people with disabilities.  Held on Capitol Hill in Washington and sponsored by the American Civil Liberties Union along with more than a dozen disability rights organizations and six U.S. senators, the briefing focused on the per-capita caps contained in the bill, which would essentially freeze Medicaid spending, including that on Home and Community-Based Services, at 2016 levels, with an inflation adjustment.   The AHCA would fundamentally alter the Medicaid program by cutting $800 billion in Medicaid funding.  These caps and cuts would leave people with disabilities without the essential services they need to live independently in the community.
Watch the briefing on Facebook.
Last modified Jun 20, 2017