Webinar Recording Available: Promising Practices in Managed Long-Term Services & Supports: Network Adequacy and Accessibility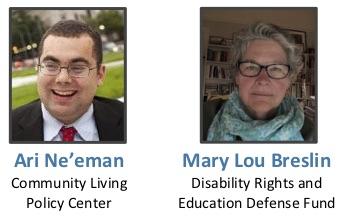 A recording of the February 15, 2019 webinar is now available, and the presentation slides can now be

downloaded.  This webinar highlights recent research from the Community Living Policy Center on promising practices in Managed Long-Term Services and Supports. First, promising practices and options for states to measure network adequacy of Home and Community Based Services providers were discussed. Second, practices were highlighted to promote physical and programmatic accessibility of network providers for enrollees with disabilities.  
Presenters
Ari Ne'eman, Community Living Policy Center
Mary Lou Breslin, Disability Rights Education & Defense Fund
Moderators
Steve Kaye, University of California San Francisco
Joe Caldwell, Brandeis University
This webinar was hosted by the Community Living Policy Center within the Lurie Institute for Disability Policy at Brandeis University. Support for this webinar was provided by Administration for Community Living, National Institute on Disability, Independent Living, and Rehabilitation Research (NIDILRR), Grant #s 90RT5026 & 90RTCP0004.
Last modified Feb 20, 2019